LATEST SOLAR NEWS:
(Apr 24 1021UTC) ALERT – strong storms could occur today as another stream arrives in the solar wind and we've failed to see significant recovery in earth's magnetic field.
(Apr 23 1038UTC) Solar wind remains intense but earth's magnetic field could be stabilizing today. This is preferable as more impacts are on their way and could produce even stronger storms if we don't recover quickly. Solar flaring and ejecta remain low.
(Apr 22 1057UTC) Geomagnetic Storms are enduring and intense.
(Apr 21 1723UTC) Magnetometers are spiking. Solar wind intensification is leading to auroral outbursts and possible geomagnetic storms today.
DAILY EARTH & SUN REPORT:

GOES Magnetometer
Space Weather disruptions show as large spikes. Space Weather calm shows as smooth curves.
Solar Wind Telemetry (ACE)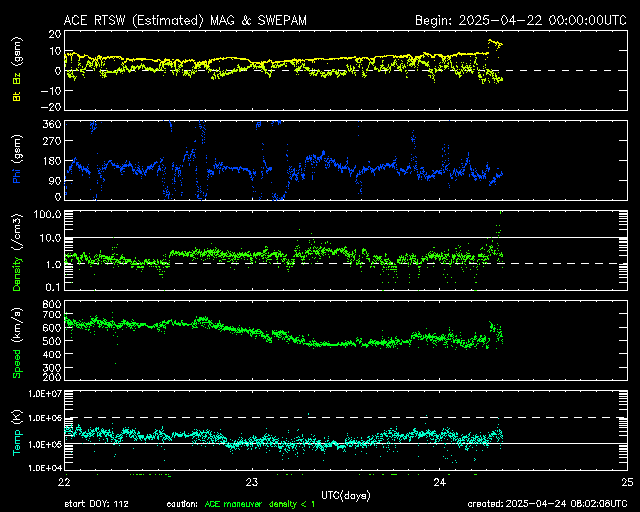 Learn About Solar Wind Here
[Red] Negative Bz is Disruptive to Earth's Magnetic Field
[Blue] Shows the Polar Angle of the Magnetic Field
[Orange] Avg. SW Density is 0.1-10 Protons/Cubic Centimeter
[Yellow] Avg. SW Speed is 350-400 Kilometers/Second
[Green] SW Temp over 500,000K is 'High'
KP Index [0-3] Green - Stable/Calm Magnetosphere. [4] Yellow - Unstable Magnetosphere. [5+] Red - Geomagnetic Storm Conditions